Welding automation already comes with a number of benefits when tackling any project, but it has been given even more of a boost thanks to the new SteelBeast®️ range of Welding Carriages.
Why Choose Welding Automation?
Welding automation is an affordable welding solution that also offers exceptional weld quality with increased efficiency and productivity, freeing up time to complete other aspects and finishing projects faster. Welding carriages increase arc time, and reduce wasted filler material, gas usage and clean-up.
Automation means improved weld quality, produced consistently with path control and with reduced distortion thanks to the even heat distribution. It eliminates over-welding, which results in wasted electrodes and gas, and additional weld cleaning.
Productivity can be at an all-time high with welding automation. Long runs where the welder would need to reposition and even stop-start the process as the generated heat increases and causes discomfort adds onto the project time, but with welding automation, this is eliminated, keeping the workflow going.
There is also less grinding involved, and some jobs can even go straight to paint. There is less cleaning unnecessary splatter or rough welds, which often can eat into time and profit.
The element of added safety is a major benefit of welding automation. Operators are away from the heat and fumes produced from the welding process. It also prevents welders from the stress of repetitive actions by removing the need to be in a work position where joint and other health safety issues could occur, such as from having to kneel or be in unnatural positions in order to weld.
Introducing the SteelBeast®️ Range of Welding Carriages
SteelBeast®️ Welding Carriages support a number of applications including trackless and rail welding. The variety of accessories such as rigid, flexible or ring tracks, pendulum or linear oscillators and vacuum system adds to the wide range of tasks our range is capable of.
Consistent, high-quality welds are produced in a fraction of the time by hand welding thanks to the constant, non-stop travel at a regulated speed. Welding carriage operators can monitor progress at a safe distance away from heat and smoke. Productivity is maximised, safety is improved, and time and costs spent are reduced.
Our machines also have the added benefit of being unlocked, meaning no expensive future reprogramming costs. This allows the customer to customise their machine and achieve the maximum productivity from their own units on current jobs.
Explore the SteelBeast®️ range of Welding Carriages, including trackless, rail track welding and cutting tractors for thousands of applications. With the entry level basic stop/start, left/right and simple speed control with the Mini Spider, progressing through the range to a fully multi-programmable unit with weld tracking and isolator that is the Rail Bull 2, there is a SteelBeast®️ welding carriage suitable for all types of projects.
Get in touch with our Specialist Solutions team today to find the right welding solution for your project.
by Keith Matthews,
Area Business Development Manager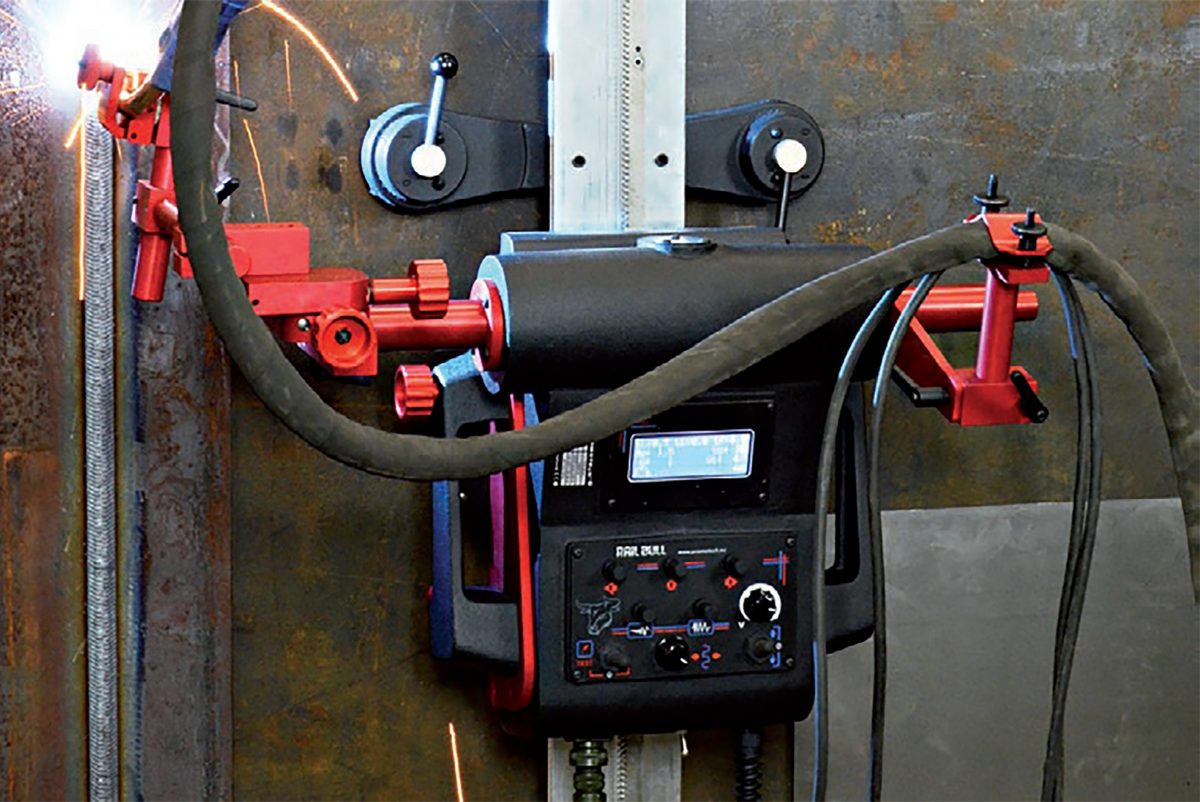 ---